William James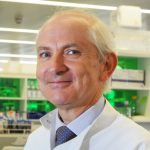 Dr. Sharat Warrier is a postdoctoral researched who joined the lab in 2018, to research the role of complement in Alzheimer´s disease.
Alzheimer's disease (AD) is the most common contributor to dementia. It´s underlying mechanisms are complex, multifactorial, and incompletely understood. It has long been established that neuroinflammation and, more specifically, activation of the complement system, has an important role in pathological processes in AD brains. Complement composed of over 40 interacting proteins, is an ancient and powerful arm of the innate immune system, participating in the recognition, trafficking, elimination of pathogens and misfolded proteins, and maintaining homeostasis. In AD interest over complement stems from the recent large GWA studies which identified >25 genetic risk loci, including several complement associated genes. This is a collaborative industry funded project, jointly supervised by Dr. Sally Cowley at the James Martin Stem Cell Facility, Dr. Elena Di Daniel at the Alzheimer´s Research UK Oxford Drug Discovery Institute and Dr. Louis De Muynck at Janssen pharmaceutica in Belgium. The main goal is to understand the cell type in question for complement expression using iPSC derived cell types of the CNS and the role of the complement proteins in relation to progression of disease.
Sharat graduated with a BSc in Biotechnology where he picked up lab skills with a particular interest in molecular biology techniques. This was followed by a MSc in Industrial and Commercial Biotechnology from Newcastle University in 2009. The research project involved studying and optimising microalgae growth for biofuel production. This was followed by an advanced diploma in Clinical Research and Pharmacovigilance from ICRI, India, to learn and understand the different regulatory processes involved in bringing drugs to market and the downstream safety studies. This was then followed by a PhD at the Ghent University, Belgium with Prof. Petra De Sutter, on understanding the emergence of pluripotency in human embryos and deciphering the role of the different states of pluripotency in human.
His research interests combine stem cell biology, embryology and neuroscience and has been widely published in several peer-reviewed scientific journals. He is passionate about bridging the gap between academia and industry and aims to utilise his analytical, scientific and marketing skill set developed through his education and job experiences to nurture his entrepreneurial and research skill set.