William James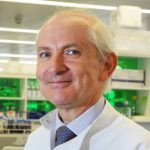 Jane Vowles joined the Oxford University Dunn School of Pathology in 2010 as a research assistant generating iPS cells from Parkinson's Disease patients as part of a large scale Oxford Parkinson's Disease Centre research programme funded by Parkinson's UK and then  StemBANCC project which established a panel of iPS derived cell lines from 500 patients as a platform for cellular phenotypic drug screening with industry partners.  She has also gained experience in Crispr Cas9 gene editing techniques.
She graduated in Agriculture from Reading University in 1981 and began her career working on reproductive physiology of ruminants at the Agricultural Production Research Unit at Reading.
She set up and ran a dairy farming business focusing on using high welfare standards to improve efficiency.  During this period she maintained her research interests working in the development department of a small biotechnology company, TSC Cellworks now part of Caltag Medsystems, specialising in cell culture models as replacements for animals in research where she gained extensive primary human cell culture experience.
To broaden her experience she moved to MRC Mammalian Genetics Unit, Harwell as a microinjectionist and culturing mouse ES cells.
Publications